Working at the SFC
Our success largely lies in having a group of professionals who share the organisation's vision. To retain and grow our people, we are dedicated to creating a good working environment that attracts, develops and motivates.
Learning and Development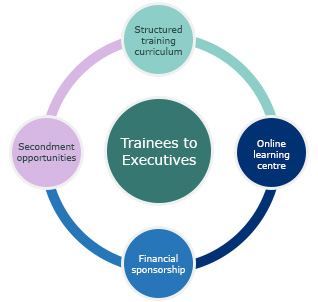 To help staff stay up-to-date, we organise a large number of training programmes and seminars hosted by local and overseas market professionals and experts. In addition, staff members may utilise our comprehensive online training centre to improve their knowledge on a flexible schedule. For high performers, we also offer internal and overseas secondment opportunities and training.
Career development
Job opportunities are available at all levels – from trainees to executives. We have in place a comprehensive performance management system to help staff set career goals and objectives and regular review them with their designate supervisors. Their performance and contributions will be evaluated on an annual basis. 
In addition to ongoing recruitment efforts, we have been running the Graduate Trainee Programme since 2009 to attract graduates of high calibre from local and overseas tertiary institutions. The three-year programme offers rotational on-the-job experience in different units of the organisation, supplemented by structured classroom training and mentorship. 
Benefits and rewards
Observing market trends, we strive to keep our compensation package competitive. In addition to salary, the package includes benefits, such as retirement scheme and health insurance. 
Internally, we promote a meritorious culture that honours good performance of individuals and encourages team spirit. Annual awards are given to both individuals and teams for their outstanding contribution to the organisation.
Work environment
We offer a congenial and safe operating environment for employees. Our staff policies implement our core values by promoting: 
Collaboration is vital; we encourage our employees to submit different ideas and viewpoints through formal and informal channels. Every quarter, employees at all levels have an opportunity to communicate with the CEO during a sharing session. In addition to providing updates on organisational matters of immediate interest to employees, our CEO also answers questions staff submitted through a designated e-mailbox set up prior to the meeting. 
To foster a culture of engagement, a series of internal communication programmes are organised regularly to facilitate cross-divisional communication. During these sessions, units share with colleagues the key issues with which they are dealing at the time.